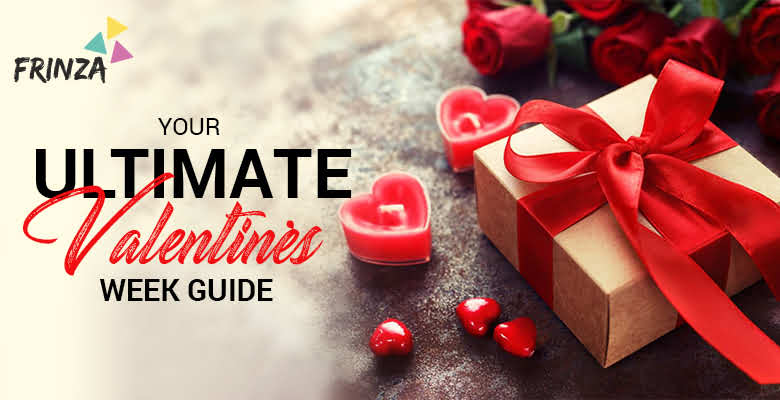 Your ultimate Valentine's Week guide is Here...
The most romantic time of the year is close at hand. Valentine's Day may be on 14th February, but the week leading up to the day too, is a great way to ensure that the romance in your relationship is rekindled. Valentine's Week is 7 distinct days that celebrate a unique facet of a relationship; and of course, this means 7 novel ways to treat your loved ones, friends and partners, parents and everyone important in your life as well.
Have no clue about how you want to celebrate Valentine's Week? Well, read on for what the week is all about and the different ideas for making it special for your loved ones.
Day 1: Rose Day (7th February)
The Valentine's Week kicks off with the eponymous Rose Day. On this day, (as expected) you should shower your loved ones with roses of different colors, depending on your relationship with them. Red for love, Pink for affection, Yellow for admiration and friendship, White for familial love are some of the options available to you.
Day 2: Chocolate Day (8th February)
Chocolates and flowers go together like lovers. Chocolate day is by far the most delicious day of Valentine's Week and as such (as the name rightly suggests) it is customary to get your loved ones plenty of sweet treats. Shop here for our chocolate and flower creations.
Day 3: Propose Day (9th February)
Propose Day, as the name suggests is the day you confess your feelings to the one that you love. It is also a great day to ask your paramour to marry you and do so with a grand, dramatic gesture. Of course, flowers will play an integral role in the happenings of the day, but teddies, chocolates, cakes, orchids and others will also help you sweep your lover/girlfriend/spouse off their feet!
Day 4: Teddy Day (10th February)
Tell your spouse or girlfriend how much they mean to you on this day, with a cute and cuddly teddy bear. A symbol of your love and undying care towards the most important person in your life. Shop here for teddies with a wide range of flowers and other sweet essentials.
Day 5: Promise Day (11th February)
A promise they say, is easy to make but hard to keep. Make an eternal promise of love to your special someone with flowers, chocolates and treats. Make them feel truly loved and leave them with the sense that they can always trust your word and count on you, irrespective of the time, distance and anything that might come in between you. Shop here for interesting Promise Day combos.
Day 6: Hug Day (12th February)
A hug is the universal gesture of affection, love, security and pure joy. On this day of Valentine's week, spend the day indoors and cuddle! Make the most of your time together and indulge in the finer things in life. Celebrate every moment of togetherness with our specially crafted gifts.
Day 7: Kiss Day (13th February)
Need we say more? Special treats for Kiss Day, for all price points and budgets.
Day 8: Valentine's Day (14th February)
The day that was literally made for love. A day to let your special ones know how dear they are to you. It is a beautiful feeling to give love and even more to feel loved. Love creates an emotional foundation for all our relationships, be it your better half or your friends. Celebrate Valentine's Day and let your gifts symbolize the love you share with them.